Wen Xia - What Really Happened!
The Straits Times - Fake graduate taught for 4 years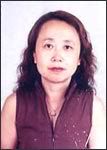 Read the below ACTUAL newspaper article from The Straits Times (11 Dec 2004, Main section, Page 4) to find out what happened.
Click the article to enlarge it.
Then read my review below.
Review
I really can't believe this has happened to a teacher - in my ex-secondary school! Gosh, which drain will the school's name flow down now? One thing's for sure, the school has no more face to hide. It is notable that she will be deported back to her homeland (China) after she comes out of jail. And the school will have one less teacher.
From the very beginning four and a half years ago, she was rather unpopular the moment she entered the school - probably because of her notorious attitude in scolding students. Having gained a negative impression for her often trendy clothing that she sported even to her classes, it was perhaps viewed that she was a wealthy "China taitai" as some put it. But now that something like that has happened, I am unsure how many parents will want to enroll their children in the secondary or (even) primary school, which is almost equally badly affected by the tarnishing of the shared "St. Hilda's" name.
And not to mention that the school had just celebrated its 70th Anniversary this year. Blessings and good gifts were expected to be abundant throughout the year. But now that such a thing has happened, the loyal Hildan can perhaps expect the school's name to remain tarnished for quite a while. But no matter how much we forgive and forget - "It is understood in such cases offenders will be deported after their release."
And what a way for the Straits Times reporters to end the article in such a way as "St Hilda's declined comment."
Even so, it might be appropriate to elaborate on her good side. Every Chinese occasion, such as the Lunar New Year, she would set up a stall near the canteen and put up books, calligraphy and worksheets to let students have a better understanding of the Chinese culture. It thus can be inferred that she is a hardworking teacher.
In addition, one of her ex-students recalled that when he was having a competition during his first year in secondary school, she took the effort to practise with him and search for the needed materials. He thinks that if students had learnt Chinese passionately and listened to her, her idiosyncrasies would not have mattered so much.
Nevertheless, her teaching days in the school are already over - and the once familiar face will be out of sight.
News article and photo courtesy of The Straits Times